Análisis detallado de expertos
Sticky Password is easy to use and very flexible too. The interface is a little bit clunky, and the browser experience is lacking, to say the least. To make up for that, it has a detailed guide on how to install Sticky Password and make sure it's working on all your devices.
Plus, any issues you might have with user interface issues are more than excused, because it's so easy to set up the multi-device functionality. It's the most compatible password manager I've seen. Sticky Password works on everything from Android to Windows to iOS and covers 16 different browsers.
After reviewing nearly 70 password managers, I've put together this in-depth review to show you the good and the bad of Sticky Password. Not all password managers are worth what they charge, and some take way too much time to set up to be of any use. Here's what I think about Sticky Password.
Features
Sticky Password is a full-featured password manager that covers all the basic needs of everyone online. It has features like password generation, autofill, strong encryption (AES-256) and 1-click form filling. These are all standard password manager features and pretty easy to use, but there are several other features that you need to know about, like biometric two-factor authentication for iOS and Android.
Here's how the autofill function looks. As you can see, it's very easy to set up. You'll add in your information once, and then never have to deal with it again.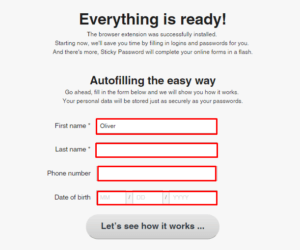 Auto-Import
Being able to import your existing passwords is a great feature of any password manager – but not all of them allow you to do it – I'm looking at you, SplashID. This feature alone saves you a lot of work, by having all your passwords easily stored in one place. Sticky Password makes this easy to do by giving you a few suggested ways you can import.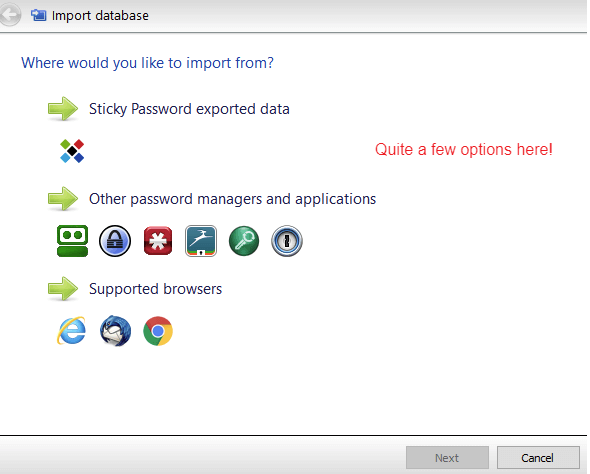 Multi-Device Syncing
The fact Sticky Password supports all devices means that it fits all types of users, with no need to worry about any compatibility issues in the future, as Sticky Passwords supports all devices – Windows, Apple, Android and iOS. The only system I could find that Sticky Password didn't support was Linux, so if you're a Linux user – this isn't for you. If you are a Linux user, we have a list of password managers which are compatible with Linux OS.
Otherwise, you'll be able to add a large number of devices to your plan and sync passwords without any trouble. You'll never need to remember any of your passwords ever again!
Synchronization and Backup
Sticky Password gives you the choice – either backup your data to the cloud, only on WiFi, or disable backups altogether. The main thing you need to know is that you have control over what's being shared. Most users might be a little bit scared of syncing their data into cloud storage, what with all of the potential hacks and other security risks that cloud storage brings. If you're looking for a password manager with local storage, to avoid this issue altogether, you might want to have a look at Keeper.
If you choose to not backup your data to the cloud – also known as the 'offline' feature – you have the option to backup your data to a simple USB device, directly from your device. You get to sleep peacefully at night knowing your data is unhackable – and even if you lose the USB device, noone can access your stored passwords without your master password. You've saved your data somewhere it can't be touched. If you want to use the cloud syncing feature, all you need to do is make sure it's enabled.

Browser Extensions
Sticky Password supports a whopping 16 web browsers, which is pretty impressive – especially when you consider that other password managers usually only support a few (looking at you, Zoho Vault). It even supports some of the less well-known ones.
Here's the full list for you –
Google Chrome
Mozilla Firefox
Internet Explorer
Opera
Chromium
Seamonkey
Yandex
Comodo Dragon
Pale Moon
Safari
Mozilla Thunderbird
Qualcomm Eudora
Dolphin
Sticky Browser
Google Chrome Portable
Opera Portable
Long story short, you're completely covered browser-wise, when it comes to Sticky Password.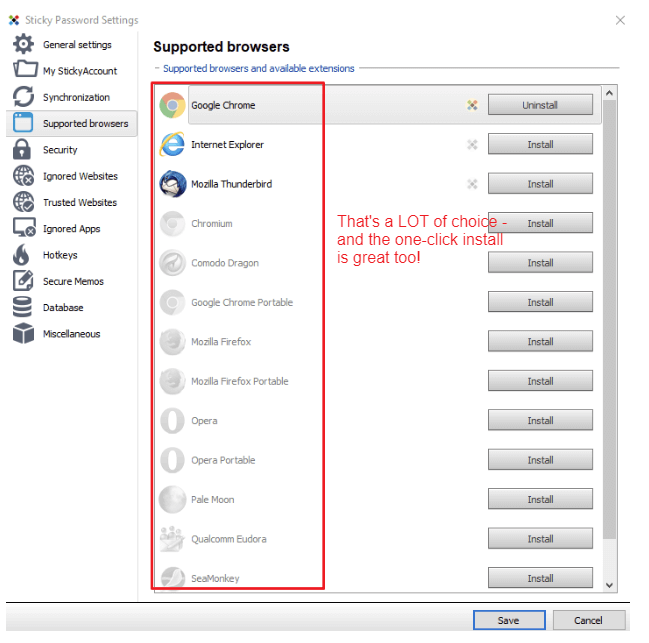 Priority support
Sticky Password has some really good support – which is even quicker on paid plans. Between the comprehensive FAQs and quick response time by email, you'll be covered if you have an issue or a question.
I received a reply back from the priority support in a cool 2 hours. That's really quick – some password managers (hi there, LastPass!) took a few days to get back to me! Although this quicker support response is a Premium feature, I really think it was worth it as an add-on, especially if you aren't very tech savvy – using the premium support will definitely help you to get the most out of Sticky Password.
Plans and Pricing
For individual users, there are two main plans — Free and Premium. Overall, the Free plan has a few different features that might interest you, but if you're looking for a really flexible password manager with lots of different features, then the Premium plan is a better option (more on this below).
The Premium plan itself has a yearly fee, but it's pretty reasonable compared to others on the market (especially pretty expensive password managers like BitDefender. Actually, Sticky Password even offers a lifetime subscription, if you're that confident you'll be using it for the long-term, which costs about 5 years of the Premium plan, which is a great deal.
One thing I really loved, is that the Premium plan includes a donation to save the manatees. Although a small touch, it 's nice to know, especially for ecologically-minded users, that part of your money is going toward saving an endangered species.
For all others, the main differences between the Free plan and the Premium plan are synchronization, backup and password sharing, which are only available in the Premium plan. For anyone who wants to use multiple devices at once and have all their password sync to each device, the Premium plan is for you. Just like with Dashlane, you'll be able to enjoy a nice range of features on the Free plan…but only up to a certain amount of passwords, (in Dashlane's case), and only on one device.
Another key difference you need to know about is that priority support isn't supplied to users on the Free plan. I was massively impressed with the response time of the Premium support, and wouldn't want to miss out on being able to get quick help when there's a problem.
The Free plan does come with a 30-day trial of Premium. Combine this with the 30-day money back guarantee, and that's 60 days for you to be sure you're a fan of Sticky Password.
I think the Free plan for Sticky Password is pretty good. But, if you're anything like most users, and really need the multi-device syncing and backup, the Premium plan, or even the lifetime plan, will be your best bet.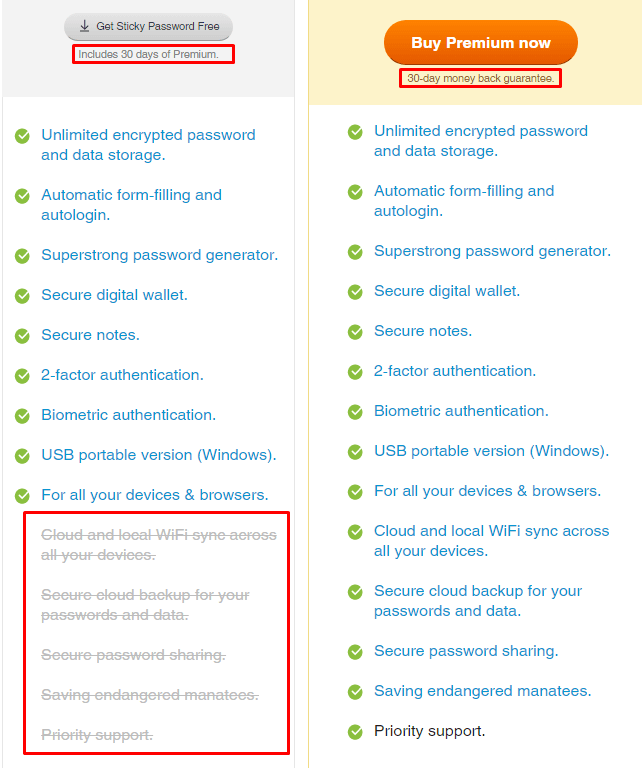 Ease of Use and Setup
Sticky Password runs straight from your desktop device. From the desktop app, you'll be able to manage your passwords, identities and other notes and bookmarks – basically anything you've saved. The one setback I had was the clunky user interface. Dashlane or TrueKey – which both have amazing, slick user interfaces – this was not. I would prefer if the data I imported looked a little better organized.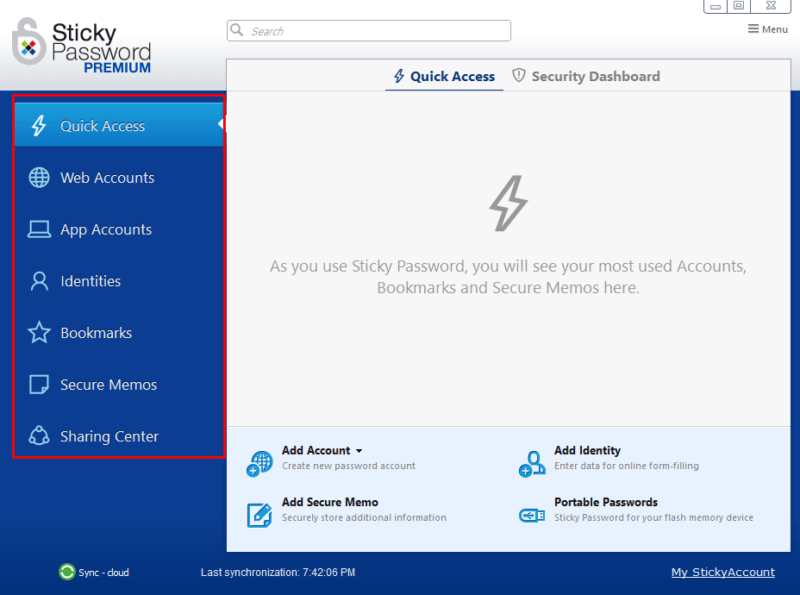 However, setting up Sticky Password is very easy, and even non-technical users should be able to do it without much trouble. Once you pay for your license, you just need to download the software and install it on your computer. After that, there are three main steps you go through.
First, you choose a master password. This is the password that will allow you access to all your other passwords, so make it a strong and secure one. Additionally, you need to make sure you keep track of your master password because there's no recovering it if you lose it. That's right – if you do end up losing it, your data is completely gone, with no way to recover it.
Step 2: Decide whether you'll sync your account with the cloud, or keep your data stored locally. I personally recommend you enable an automatic backup of your information, and Sticky Password is designed to do this in the most secure way possible. That and, once you do, you'll be able to sync across your devices automatically – if you have the Premium plan, that is. Here's how you enable it –
Last step: choose and install your browser integration. Doing this will let you to easily import all your passwords from your browser into one place. If you don't see your preferred browser below, don't worry. Sticky Password is compatible with 16 browsers – as in, it works nicely with the most number of browsers that I've seen in any other password manager.
Once you've followed those three steps, you'll have the option to enter your license key. Just enter it and click 'Start'.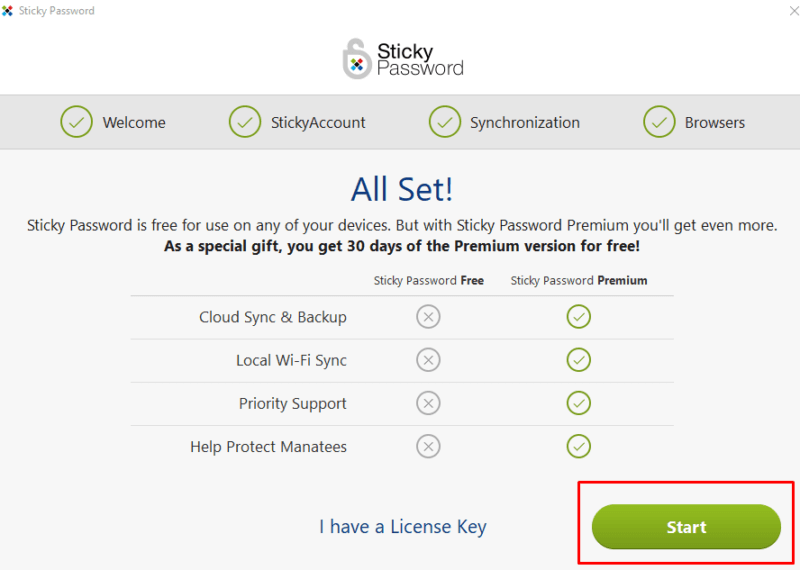 To make the most out of Sticky Password, you'll be better off installing the browser extension. Installation is very easy and basically takes one-click. After that, all you need to do is log in to your account, and you'll start getting prompts from Sticky Password about whether you would like to save a password or not.

Once installed, you just need to click on the Sticky Password icon in a field to select 'Add Account' and enter your login credentials.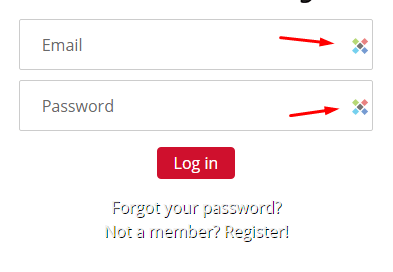 The interface is intuitive and allows you to look at what you already have saved for that website. After that, you just need to select 'Add Web Account' and you're set.
Below, I've added a screenshot of how you can easily add passwords from specific websites, and add bookmarks too. There is also a cool option to lock the application so no passwords can be tampered with or overwritten.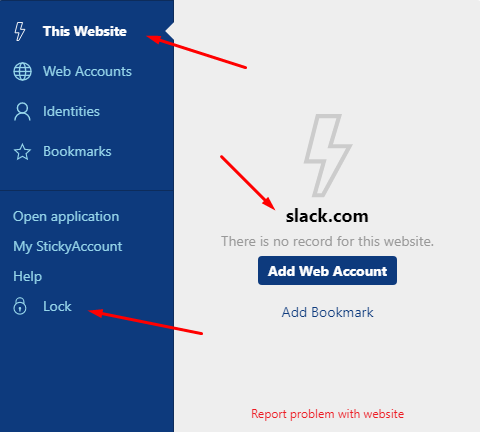 Now you just enter your account name, login and password, and it'll automatically save the information you selected to your account. If you're on the Premium plan, then this will also sync across all your registered devices too.
Then, the next time you visit that same website, Sticky Password will autofill your saved credentials. And just like that – you've saved yourself some time!
The mobile app is simple to install as well. Just download it from the App Store or Google Play Store, enter your password once it's installed, and then the app will ask you if you'd like to import your device's passwords.
The menu for mobile is very similar to the desktop interface, so you won't find it too complicated to use. If you have the Premium plan, you can also manage your online information and synchronize across devices.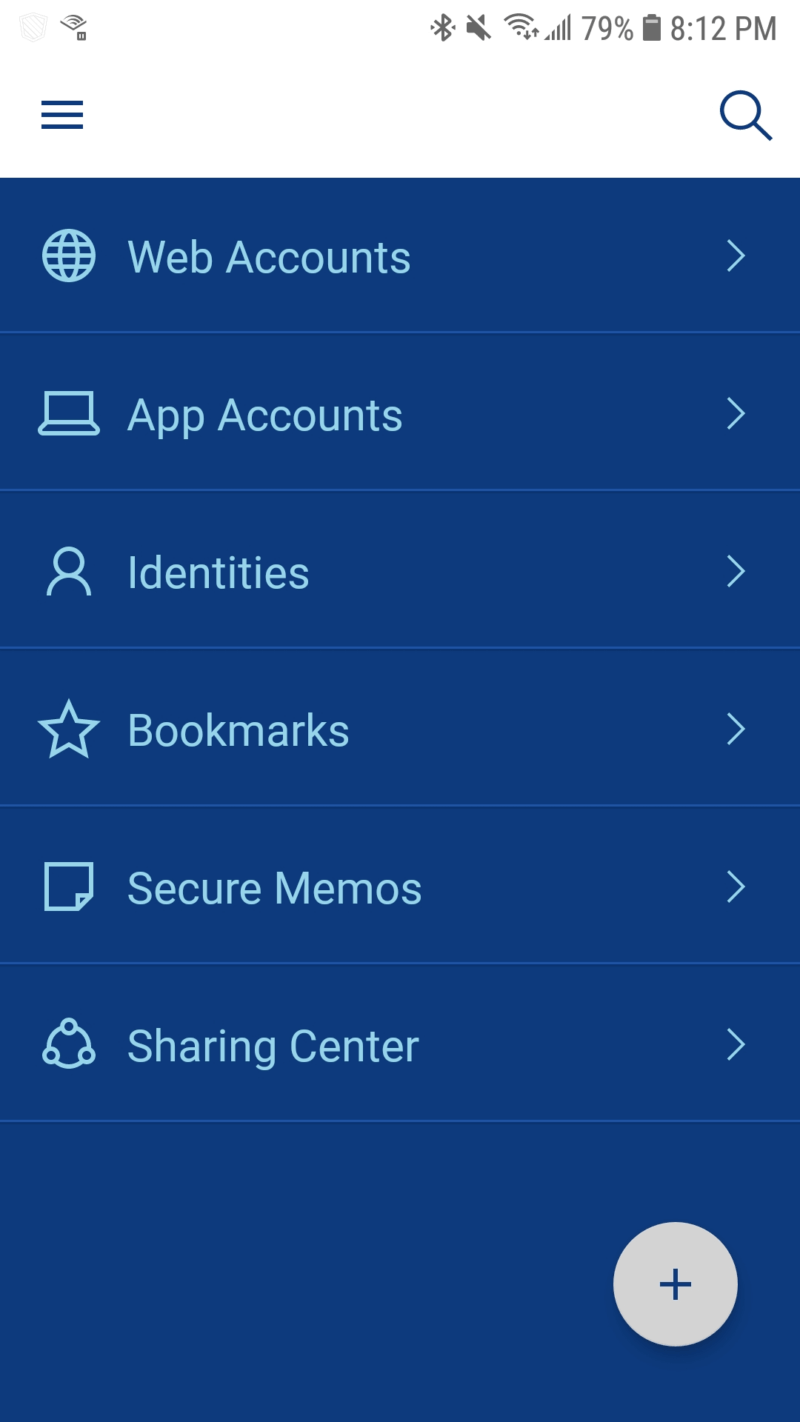 The mobile interface is very easy to understand and I'm sure every user will be able to figure it out.
All in all, the app is a really easy to use, feature-full extension of the desktop app. This is not something to take for granted – after all, some password manager (like Zoho Vault) are pretty tough to navigate, so this is a huge win for Sticky Password.
Security
Sticky Password has some very strong security. It boasts all of the standard features any user would want from their password manager. With an AES-256 encryption, which is the industry standard, you can be sure your information is safely stored – whether it's on the cloud or locally. That and, you only need to remember your master password access to your password database – so make sure you use a good, strong master password!
Sticky Password also has the cool ability to automatically lock your device after a certain amount of time. It also gives you the option to use a virtual keyboard, meaning no potential keyloggers will ever be able to hack your password as you type it. Otherwise you have the option to setup biometric logins on mobile devices and a range of two-factor authentication options too.
The backup feature helps make it simple to put all your passwords onto a separate device. It's designed to automatically detect any hard drives you have plugged in and then give the option to back up your passwords in that location. The fact you can prevent your passwords from ever leaving your home network is a big plus. It's actually a cool addition to the password manager's security, which is a feature that not many other password manager softwares have.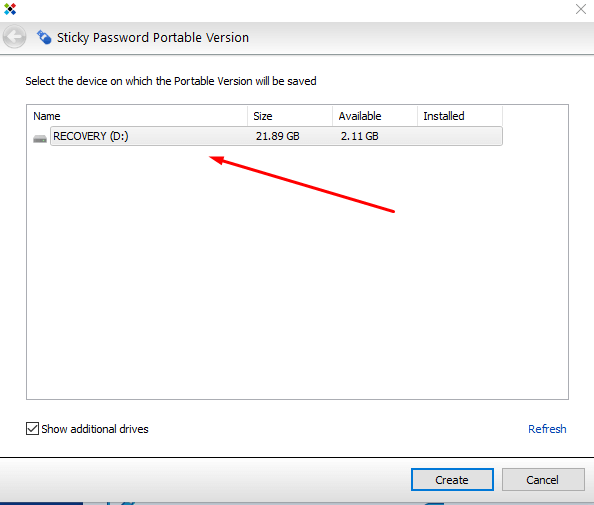 Customer Support
Sticky Password boasts priority support for users who get the Premium package, and their support did not disappoint. Although there are no chat or phone channels, the email response time was approximately 2 hours and they were happy to help.
Getting to the support section of Sticky Password was very easy. Once logged into the online portal, there's a clearly labeled 'Support' button that takes you to a page that has everything you could ever need. Some other password managers – like Zoho Vault – have the support button hidden or not as easy to get to. It makes a difference if you're not that technically-minded, especially if you have urgent questions or are just trying to figure out how to use the software.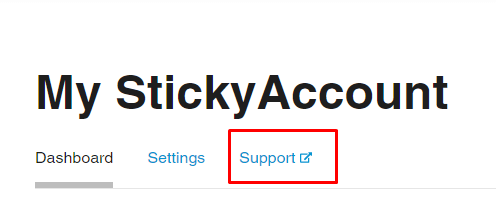 The FAQ section is very well organized. As you can see below, it's split into topics, as well as operating systems! This makes it easy for you to quickly find the answers you need.
There's also a list of the top questions asked by users, and a discussion board at the bottom that's pretty active. Not only will you be able to find any answers you need quickly, but you'll also get the most out of your password manager by learning how other users work with it.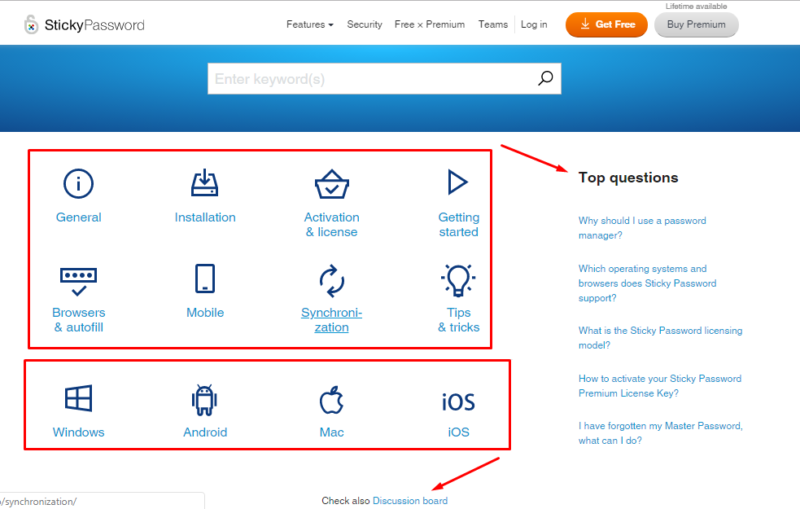 The FAQ posts are very detailed, with step-by-step explanations of any questions you may have. It uses screenshots too so it's very easy to follow along.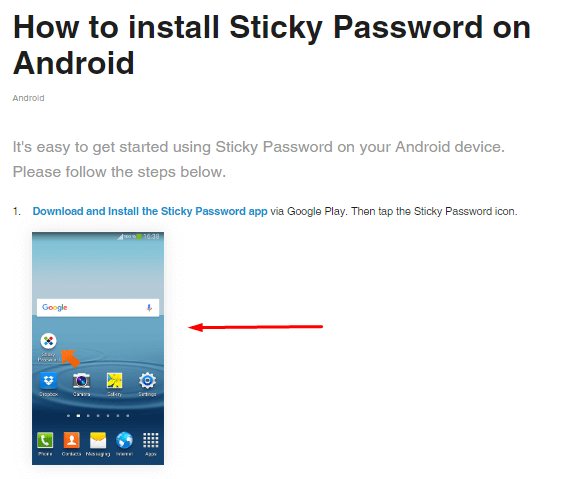 As mentioned earlier, the support for Sticky Password is very responsive. Although it doesn't have 24-hour support, they guarantee responses within 24 hours and are much faster than that during normal business hours. Customer service is available in English, German, French, Dutch, Czech, Russian, Ukrainian and Japanese. That's pretty rare too – most password managers have support in English, and English only.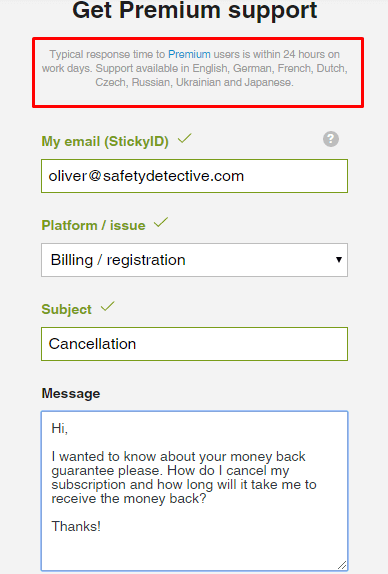 The Free plan's support is much slower. In fact, complaints about Sticky Password online even suggest that the fee for the Premium plan is worth it, just for the quick support alone.
If you don't end up loving Sticky Password, getting a refund is easy. Once you request a refund, you'll see the money back in your account in a few days (assuming you ask for the refund within 30 days).
Yes, really: